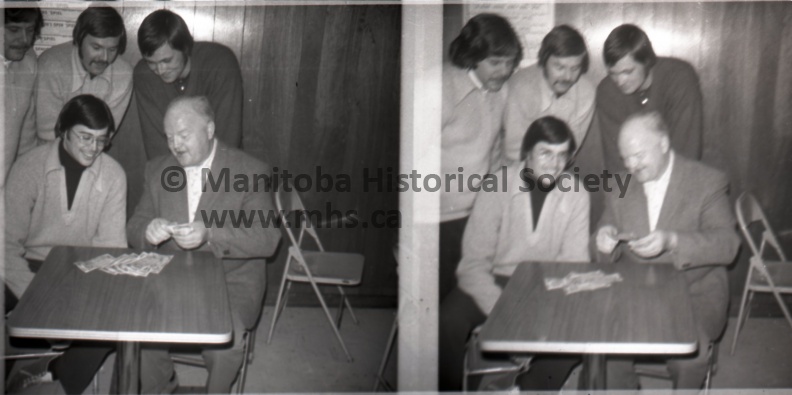 (Tashiro)
Nov. 16/73
Curling
Men's Cash Bonspiel Rolling Along Fine
The Pause that... Dave Green and Mick Demman, the curling club's icemaking crew, take on some much needed nourishment this morning in the club lunchroom. Most of Manitoba's curling aristocracy is on hand for the club's fifth annual cash bonspiel, and Mickey is satisfied only when the ice is perfect - or maybe even better. The 'spiel is in its second day today.
Never a mistake. There may have been the odd poor call or missed shot out on the ice, but behind the glass the 'experts' called them all to perfection. There was little room left for spectators at the curling rink during the second go-round Friday of the local club's annual Cash Bonspiel that concludes Sunday.

Undefeated skips. Anyways, it seems like a good way to get rid of Barry Fry, who's probably hoping Hersh Lerner, left and Don McNabb, right, are just foolin'. All three skips were undefeated when this shot was taken at the second day of the Portage Curling Club's cash bonspiel.

Bonspiel winners. Pay day at the Portage curling club's cash bonspiel. Chairman Cliff Bagrie counts out $2,000 in cash Sunday for the Billy Walsh Jr. rink which headed the field in the invitational event. Interested observers to the procedure are third Don Wiles, second Bob Boughey, and lead Stuart Maness.