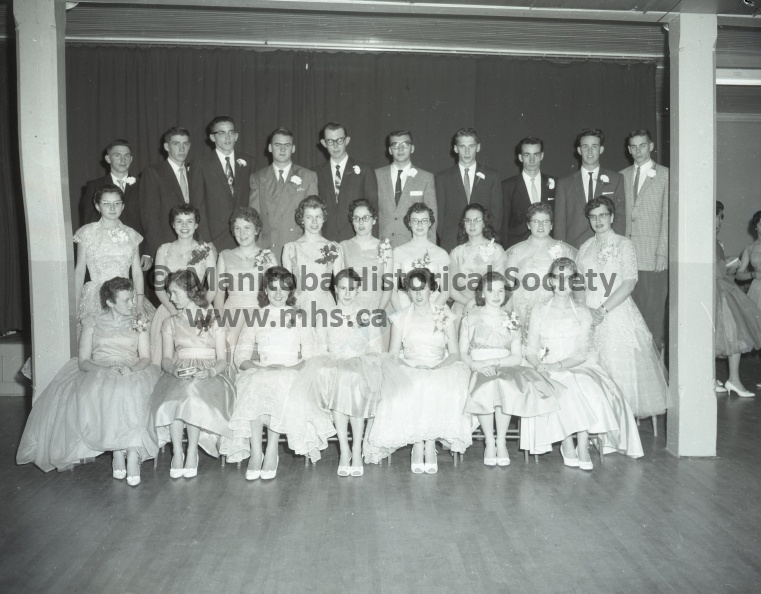 Tashiro June 12/59 Social ANNUAL GRADUATION EXERCISES HELD AT PORTAGE COLLEGIATE.
GRADE 12 GRADUATES – left to right, back row, Don Keast, Toby Trimble, Robert Ripley, Jack Robinson, Richard (information missing)dnaruk, Paul Pelletier, Jim Loucks, Chris Andrews, Edward Peasgood; centre row, Betty Nicholson, Ann Marie Grobb, Corinne (information missing)stenuik, Helen Vopni, Lynne Farley, Beverley Zimmerman, Marian Ronald, Jean Ferris, Gail Bodie; front row, Heather Thompson, Florence Ronald, Sylvia Yacucha, Joan Riggs, Marie Balch, Esther Ronald and Patricia Lee.
GRADE 11A GRADUATES – left to right, back row, Roy Stronski, Jim Ennis, Jim Campbell, Eddy Gilrov, Terrence Green, Bob Hamlin, Eddie Dowse, Ralph Dwornik, Ian Fraser; centre row, Linda Crewson, James Forbes, Terry Robertson, Beverley Plaskett, Elaine Hykawy, Judith Sangster, Patricia Cochran, Sharon Clark; front row, Garry Post, Michael Gehlen, Eddy Pauch, Carl Ferris, Kenny Sharp, Alan McMillan, Doug Samels, Glen Wilson, Errol Harris, Hugh Ronald.
GRADE 11B GRADUATES – left to right, back row, Carol Moran, Sharon Nodrick, Marie Verwey, Judith Forbes, Wayne Bott, Murray McLeod, Douglas Treffry, Faye Chesney, Adeline Dudar; front row, Owna Mellen, Donna Bover, Karen Walker, Joan Harrison, Merlene Lavallee, Patricia Case; Merren Rennie, Barbara Malanchuk, Doris Moffat, Linda Judd.
GRADE 11C GRADUATES – left to right, back row, Victor Walker, David Greenburg, Lloyd Gemmell; cetre row, Sharon Quinn, Dorothy Prior, Sally Trimble, Sara Alderson, Margaret Galzsauler, Joan Tufford, Carol Hillman, Jill Ward, Mary Richards, Mariyn Bourne; front row, Gwen Burton, Lois Vust, Julianna Salay, Gail Stromski, Beryl White, Donna Cumberland, Barbara Samels, Julie Steeves.
GRADE 11D GRADUATES – left to right, back row, Craig Moggey, Winston Dziver, Ken Ezzard, Joyce McIvor, Marjorie Tomalin, Robert Burk, Garry Beam, Ken McCowan, Larry Mutcheson; front row, Waind MacDonald, Irene Boyachek, Margaret Henry, Lois Lusk, Elsie Duchak, Patricia Wagner, Ruth Smith, Una Dack, Gail Kelly, Fred Kelsey.

Posted on

Dimensions

5285*4125

File

11938f.jpg

Filesize

1964 KB

Albums

Visits

2680

Rating score

3.85

(1 rate)