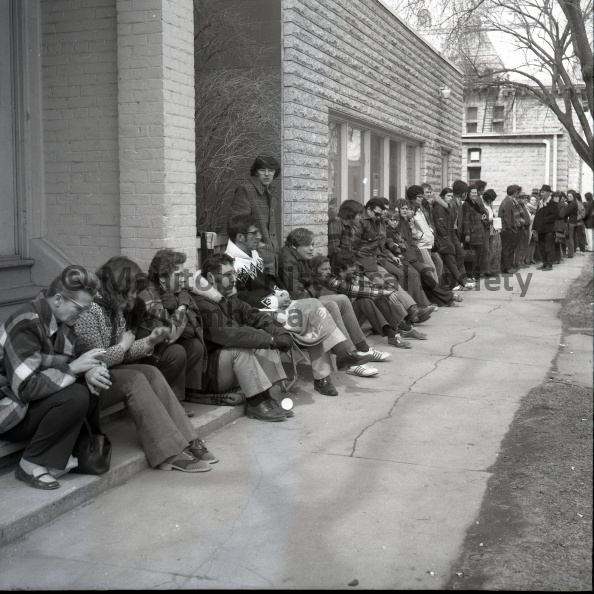 (Vopni) March 31/73 Jr. Terriers

Line-Up of Ticket Buyers For 4th Terrier - St. James Finals Sunday in St. James

Terrier fans began lining up to buy playoff tickets at 10 a.m. Saturday morning, three and a half hours before the tickets were to go on sale. The weather was good and those waiting were in good spirits. At 1:30 p.m. the line contained over 100 people and stretched south to the Presbyterian Church with the tickets gone before all the lineup could be accommodated.

Portage was allotted 400 tickets for Sunday's Portage Terrier - St. James Canadians playoff game at St. James Civic Centre. The tickets went on sale at 1.30 p.m. Saturday and six minutes later all the tickets were sold. Many people were unable to get tickets but some travelled into St. James and picked them up there. Over 1,500 tickets were sold in advance and hockey fans were lined up at the St. James Arena before the doors opened at 7 p.m. Ron Horner, on the left, and Maurice Batters, however, spent a busy six minutes selling the precious ducats.
Posted on

Dimensions

2581*2581

File

11183c.jpg

Filesize

1198 KB

Albums

Visits

821