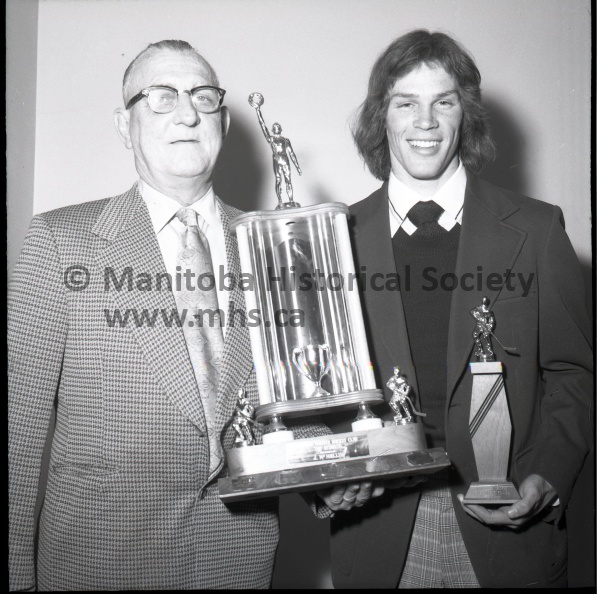 (Vopni) May 24/74 Junior Terriers

Junior Terriers Presentation Night

Portage Terriers' captain, George Miller, on the left, was the proud recipient of the Lo Cost Drug Mart most valuable Portage Terrier player trophy. Orville Wagner, on the right, made the presentation at the Terrier windup Friday night at the ANAF Hall.

Steve Ford was the Portage Terriers' and the Manitoba Junior Hockey League's leading scorer this year. John McMullin presented Steve with the team scoring trophy at the Terriers' windup banquet Friday night. Previous winners of the J. McMullin trophy include John Hayes, Grant Farncombe and Randy Penner.

Ralph Bradbury, Portage Terrier goaltender, is the first winner of the Portage Creamery rookie-of-the-year award. Syd Archer, representing the Portage Creamery, made the presentation to Ralph at the Terriers' windup Friday night.
Posted on

Dimensions

2663*2646

File

11969b.jpg

Filesize

1149 KB

Albums

Visits

1502

Rating score

3.85

(1 rate)