Home
/
Keywords
celebrations

+
furniture

/
VP-1-00983-002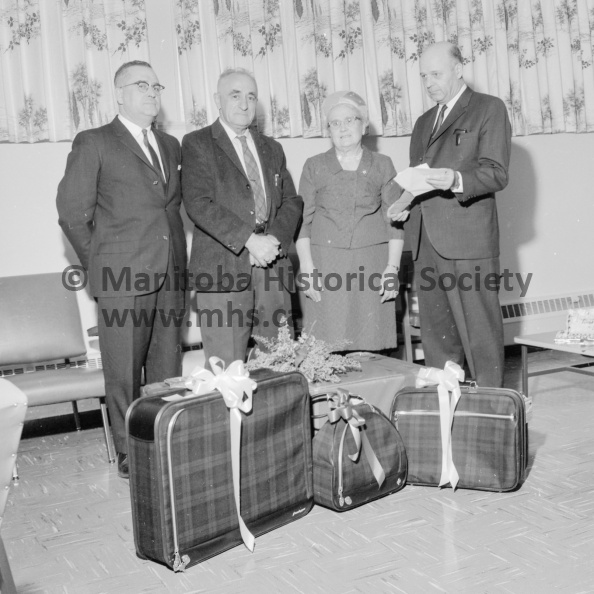 Photographer: Tashiro

February 29, 1968

Social

Bill Murray retirement social by Portage Mutual staffers

Portage la Prairie Mutual Insurance Company staff members honored William Murray at a retirement social Thursday afternoon. Mr. Murray emigrated to Canada from Scotland 43 years ago and arrived in the Portage area in 1947. After working at the Macdonald airfield, St. Mary's and the Manitoba Schools, he joined the Portage la Prairie Mutual Insurance Co. in June, 1951. Mr. Murray served the firm continuously for almost 17 years in the stationery department. E. M. Brown, company general manager, on behalf of the staff, presented Mr. and Mrs. Murray with a set of travelling luggage. A decorated cake, prepared by the office girls, completed the brief ceremony. In the photo, from the left, son Sandy, Mr. and Mrs. Murray, and Mr. Brown.
Author

Tashiro

Created on

Posted on

Dimensions

1612*1612

File

VP-1-00983-002.jpg

Filesize

460 KB

Keywords

Albums

Visits

1513